Productivity Lagging? Try A Five Minute Blast
July 23 at 12:00 AM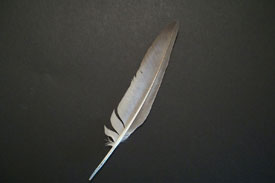 Photo by Teodoro S Gruhl
If you find yourself at the end of the day without accomplishing all you'd hoped, try a five-minute blast. What exactly do I mean by a five-minute blast? It's a short exercise where you blast through a small window of time without stopping, pouring all of your effort into one specific thing. This can be a scene from a book, a character sketch or notes about a particular setting. In short, it can be whatever you want it to be; just be sure to choose something that will give you a measurable amount of success.
Five minutes is only a suggestion. You can find equal success by targeting a finite space, perhaps an empty page or a certain number of bullet points that you want to address. The whole point of this exercise is to work within constraints and see how you perform as a result. I've found that by mixing the two I can achieve greater success. Give yourself one page to write, but only five minutes to do it. This will give you a whole new perspective on the exercise at hand. The more specific you can be, the better the results.
It's always amazing what can be produced in a small space of time. As you write you may find that five minutes is not enough. Listen to yourself and keep going. The blessing with this exercise is that it got you writing in the first place; you should always strive to keep yourself writing. You may also find that this exercise is effective when dealing with writer's block.
I would also recommend that you place these 'blasts' strategically throughout your day. A five-minute blast is a great way to kick off your writing and jumpstart it when you lag. Start and end your day with an exclamation point and give yourself that small taste of success that you deserve.